Grand Paws for Life: Prisoner Program at Vacaville Prison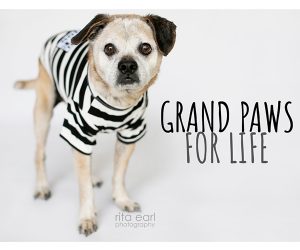 Program Overview
Senior Dogs in Prison: Providing Love Until the End
Made Possible Through an Alliance Between Paws For Life K9 Rescue, Grand-Paws Senior Sanctuary and the California Department of Corrections and Rehabilitation (CDCR)
and Generous Funding from The Gillie Foundation
Summary
Paws For Life K9 Rescue's Senior Programis an innovative collaboration that brings older dogs and senior prison inmates together to provide friendship and comfort for both.
Older dogs often face higher rates of euthanasia in overcrowded shelters because people tend to prefer puppies, think there must be something wrong with an old dog without a home, or it will be too expensive or heartbreaking to adopt an elderly canine. The first of its kind, the Senior Program seeks to make the sunset years of dogs more peaceful and less lonely by bringing them into the prison setting to be socialized and cared for by senior inmates. This innovative senior-to-senior program is a partnership with Grand-Paws Senior Sanctuary, freeing up space in their shelter to rescue more dogs, while allowing those already pulled to receive socialization and love from a fellow senior as they await adoption. The program will run out of California Medical Facility, a correctional site with a large senior inmate population, geriatric and hospice care. We anticipate this program will serve 50 inmates and 35 dogs in year one, growing in number as need is determined.
Need
Older dogs (age 5 and over), larger dogs (40 pounds and over), and pit bull-type dogs are most often overlooked in shelters and at greater risk of unnecessary euthanasia in overcrowded animal control facilities.
Grand-Paws Senior Sanctuary GPSS) does what it can to pull as many overlooked senior dogs as possible, but the volume in shelters is huge and space at the rescue is limited. Rescued dogs also need socialization, and often, medical care before home placement.
The California Department of Corrections and Rehabilitation (CDCR) needs innovative programming within the correctional setting to engage inmates, especially targeted populations, with the goal of improving behavior and mental and physical health and providing useful skills training.
To meet all of these needs (and many more!), Paws For Life K9 Rescue is partnering with GPSS and CDCR to ensure that as many dogs as possible can live out their days feeling loved. In 2019, our goal is to save at least 35 "at risk" senior dogs through this partnership. We will take 10 dogs to start the new program; which will clear up space for Grand-Paws to rescue 10 more from the surrounding Los Angeles City and County shelters. All program dogs will be over 10 years old and will likely need bloodwork, teeth cleaning/extractions, supplements for joints, medications, and ongoing veterinary care. Paws For Life K9 Rescue will cover the initial medical cost of the dogs that GPSS pulls from the shelters.
Program Activities
The pilot program will take place at California Department of Corrections and Rehabilitation's California Medical Facility in Vacaville. Prison administration always welcomes innovative programming that benefits inmates. This novel program is ideal for engagement of the sizable elderly inmate population at CMF.
The men will take care of all of the needs of the senior dogs: walking, feeding, bathing and administrating supplements. The dogs will receive enrichment while housed at the prison. We will then advertise these dogs throughout surrounding areas.
To keep the spirit of the senior-to-senior program alive, we will target senior living communities when looking for permanent homes for program dogs.
Numbers Served (Canines and Humans) Per Round & Annually
We anticipate that 50 inmates and 35 dogs will participate in the program each year. We will increase our reach as need is determined and funding is available.
Timeline for Implementation
The program will be launched in May 2019 and will run year-round.
Value & Benefits
Paws For Life K9 Rescue will once again create an innovative prison-based program that helps dogs and inmates – this time serving seniors – human and canine
Senior inmates housed at California Medical Facility will have access to a therapeutic program, giving them the chance to help senior dogs prepare for a new (and possibly last) forever home
More senior dogs will get a second chance at love in their final years
Euthanasia rates of senior dogs will hopefully decrease in the long-term
Program Cost/Line Items/Budget/Sources of Funding
The program will cost roughly $50,000 – $60,000 annually.
The cost line items include:
Dog crates: $2,235
Leashes: $300
Collars: $385
Beds: $1,000
Jackets: $300
Blankets: 400
Bowls: $225
Shampoo/Conditioner: $300
Supplements: $1,500
Food (120 bags per year): $7,000
Medical: $35,000
Insurance: $1,000
Overhead/General Operating: $5,000-$10,000
Other sources of funding
The program is made possible thanks to a generous seed grant from The Gillie Foundation. We have requests pending with some grantmaking foundations and individual donors. Donor prospecting and stewardship is ongoing. We are also examining ways to apply for joint funding with program partners.
About Paws For Life K9 Rescue
Paws For Life K9 Rescue (PFLK9) was founded in mid-2018 to continue, enhance and expand the hugely successful Paws For Life programming that's been running for 4.5 years inside California Department of Corrections and Rehabilitation (CDCR) facilities. We currently operate in two prison settings (CDCR-LA County in Lancaster and CDCR-Mule Creek outside Sacramento) and will soon begin working in one more location (CDCR-California Medical Facility in Vacaville).
All of our program dogs are pulled from high-kill shelters. Most were likely to be euthanized due to size, breed or age. Our trainers dedicate all of their time to the dogs' rehabilitation. By lowering euthanasia rates and preparing dogs for service-jobs with the help of prison inmates, PFLK9 proves that everyone deserves a second chance.
About Grand-Paws Senor Sanctuary
The mission of Grand-Paws Senior Sanctuary is to rescue primarily large-breed senior dogs who have been abandoned. These dogs are GPSS's target demographics because they are most likely to be euthanized in the shelter setting. Grand-Paws rescues from local high-kill shelters and lets dogs live out their lives in the sanctuary or in fostered homes: happy, safe and loved.
About California Medical Facility (California Department of Corrections and Rehabilitation)
California Medical Facility (CMF) was established in 1955 by the California Legislature to provide a centrally located facility to meet the medical, psychiatric, and dental health care needs of male felons incarcerated within the California Department of Corrections and Rehabilitation. CMF is a medium security medical facility located in the city of Vacaville in Solano County.  Vacaville is located 37 miles southwest of Sacramento and 65 miles northeast of San Francisco.
CMF provides health care to inmate-patients who reside in a number of settings – including General Population, Outpatient Housing Units (OHUs), a licensed Correctional Treatment Center (CTC), a licensed Mental Health Crisis Bed CTC, Outpatient Psychiatric Facilities, and the first licensed Prison Hospice in the United States.
Health care services provided at CMF include primary care, chronic care, and specialty care clinics; radiology, occupational and physical therapy, pharmacy services, laboratory, respiratory, inpatient and outpatient mental health treatment, end-of-life/palliative care services, services for the visually and/or hearing impaired, and services for those with other acquired or developmental disabilities.
CMF serves as a resource to the rest of CDCR and contracts with community consultants and hospital facilities to meet the complex needs of its inmate-patient population. This facility provides both outpatient and inpatient mental health services for patients with a serious mental disorder. The licensed Psychiatric Inpatient Program at this facility is designed to provide more intensive treatment for patients who cannot function adequately or stabilize in an outpatient program.